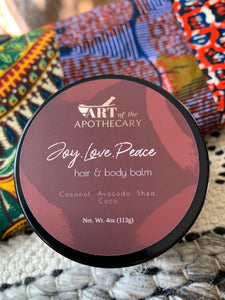 By Art of the Apothecary ~ A shine inducing/moisturizing balm for dull hair and skin. 4oz.

This luscious butter blend supports elasticity and adds moisture to dry hair and skin.
Usage:  Hair ~  Apply daily for shine. Great as a sealant for protective styles such as braids, twist and locs.
Skin ~ Apply as needed to dry areas for instant moisture. Tip: Best used on dampend skin when pores are open.
Prepared with: Shea butter, Avocado butter, Coco butter, Kokum butter, Coconut oil, Beeswax and a signature blend of essential/fragrance oils.
Enjoy!